Monash IVF have over 40 years of experience and 40,000-plus babies delivered, we're leaders in the reproductive field.
Monash IVF is proud of the partnership with Seattle Sperm Bank (SSB) whereby donors are selected and imported for the Monash IVF donor program. All donors imported to Monash IVF comply with all the required state legislation and regulatory requirements.
Our highly-skilled donor teams are committed to helping our patients access donor sperm and making the process as simple as possible.

Address
Brisbane
Level 1, 55 Little Edward Street
Leichhardt Court
 Gold Coast
Level 1
7 Short Street
Southport
Rockhampton/Townsville
206 Murray Street
Rockhampton
Sunshine Coast/Bundaberg
23 Elsa Wilson Drive
Buderim
Phone
Ph #: 07 3232 7088
Email
MONASH IVF DONOR PROGRAM PROCESS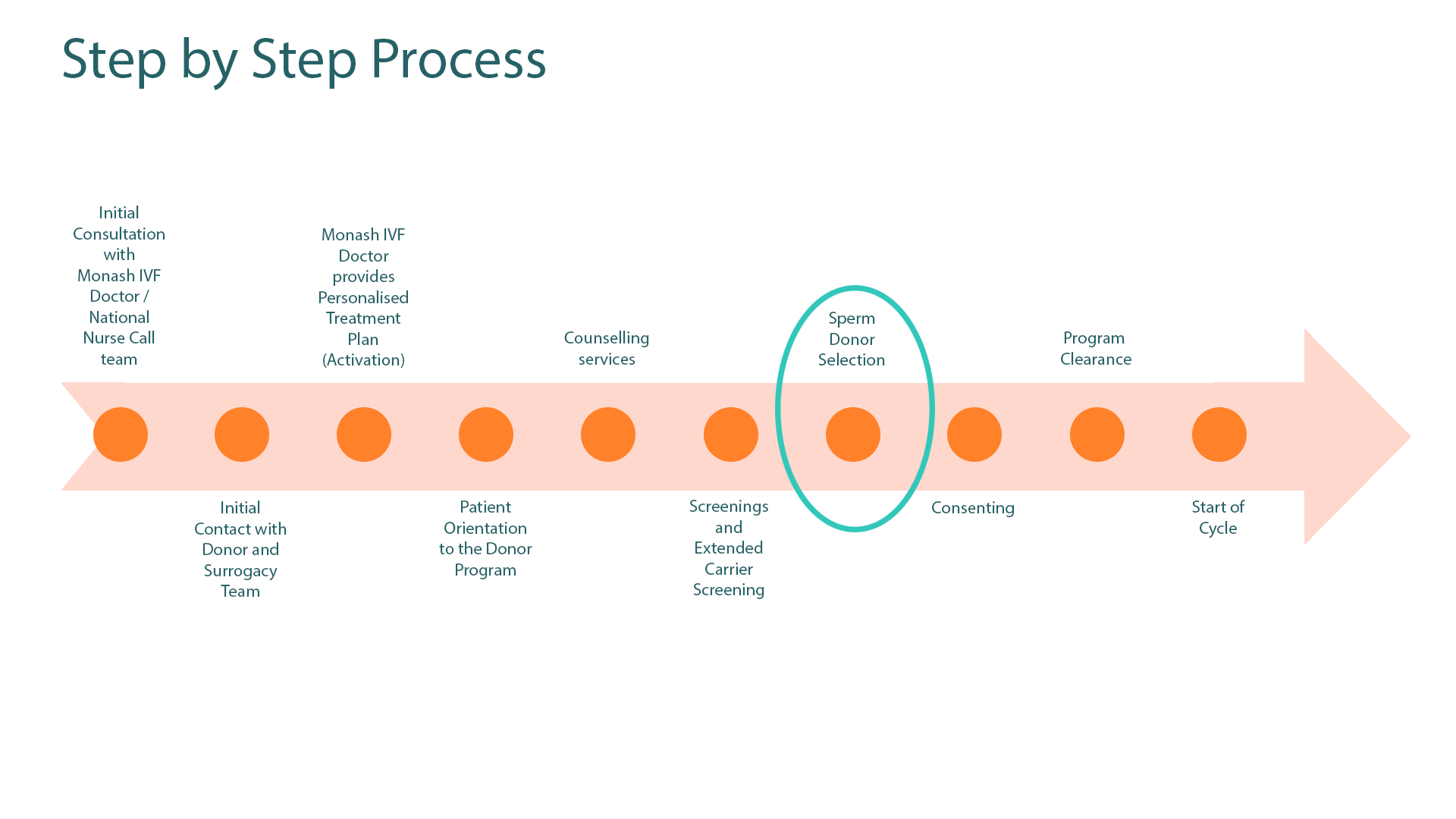 Consultation with a Monash IVF Fertility Specialist
To book an appointment, please contact the number associated with your most convenient Monash IVF clinic.
Your Fertility Specialist will discuss suitable treatment options with you and will be able to advise of your treatment plan (activation) with donor sperm.
Patient Orientation to the Donor Program
Once you have decided to progress with treatment using donor sperm you can schedule an appointment with a donor coordinator.
At this appointment a donor coordinator will discuss the donor process of accessing Seattle Sperm Bank, timelines and the process of reserving a donor.
Counselling Services
Donor counselling is a mandatory requirement for patients accessing donated biological material. Depending on your circumstances, you may be required to attend multiple sessions.
All counselling sessions are undertaken with a counsellor who is eligible for membership with ANZICA.
Genetic Carrier Screening
Seattle Sperm Bank donors undergo additional genetic screening tests known as Genetic Carrier Screening.
These additional screenings test for an extended genetic panel of diseases to prevent a child being born with a condition. You may be also required to undergo Genetic Carrier Screening. This process is facilitated by Monash IVF genetic counselling services who will assist with ordering the test and matching results with a recipient's chosen donor. When reviewing a donor profile, please refer to the donor's genetic results to understand if the donor is negative or positive. Your nurse or donor coordinator can also assist you to understand if you are also required to have Genetic Carrier Screening.   
Sperm Donor Selection
When reviewing the donor profiles and completing the reservation paperwork, you will need to ensure you include your preferred donor and a backup donor to avoid any delays.
All donors with Seattle Sperm Bank are onsite at Monash IVF QLD therefore you will not need to pay additional shipment costs.
Consenting
Prior to commencing treatment you will be required to consent to using donated biological material. Your donor coordinator will assist you with this process.
Program Clearance and Start of Cycle
Once all the steps and mandatory requirements have been completed and reviewed, you will be cleared to commence treatment with your chosen sperm donor.
Find Exclusive Donors
Seattle Sperm Bank offers a number of donors exclusivly to Monash IVF for distribution in Australia. Australian fertility clinics must take reasonable steps to ensure that the number of families who use a donor is minimised.
Distribution of each donor is limited to a select number of families in Australia. Please contact Monash IVF to inquire about availibility.
Reserving Your Donor
Once you have identified a potential donor from the Monash IVF Donors listed please contact the QLD Donor Program – donor.qld@monashivf.com.au.
Donor availability is subject to vials and family allocations which will be confirmed with you following confirmation directly with the Monash IVF team.
All Monash IVF Seattle Sperm Bank donors are onsite at Monash IVF QLD therefore you will not need to pay additional shipment costs and can order 1 or more vial quantities.
Guiding Your Fertility Journey
At Monash IVF our team are known for clinical excellence and patient care with a world class track record and consistently amongst the highest success rates in Australia.
Our IVF care and treatment is leading in expertise and success rates. Find out more about our successes and take a tour of the laboratory below.